Extract From
The History of Chester County, Pennsylvania
Futhey & Cope 1881
---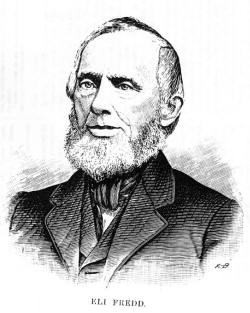 ELI FREDD
John Fred, or Fredd, and family came from Ireland and settled in Birmingham township. His son Nicholas was the father of Joseph Fredd, whose son Benjamin was born in 1757, and died April 11, 1838. Sarah, wife of Benjamin, died March 2, 1843, aged about ninety-three years. Their children were Susanna, born March 24, 1791, and died Oct. 31, 1832; John, born Nov. 27. 1792, and died May 27, 1872; Isaac, born Nov. 16, 1794; Amos, born Feb. 14, 1797, and died February, 1862; Elizabeth, born Sept. 6, 1799, and died May 29, 1844; Eli; Rachel, born July 31, 1804; Sarah, born May 6, 1808, married to William P. Robinson, and died Feb. 1, 1877; and George, born Feb. 7, 1811, and the only surviving child. Of these, Eli was born Dec. 7, 1801, and married Sarah, daughter of Vincent and Mary F. Wiley, born July 30, 1820. Their children were Benjamin Eli and Sallie (twins), born Feb. 10, 1855. The latter died Sept. 29, 1866; the former married Martha Y., daughter of Joshua and Martha Broomell, of East Fallowfield township, and has one child, George Benjamin, born Oct. 3, 1879. Benjamin E. has about two hundred acres of finely located land and two sets of buildings.
Eli Fredd died March 30, 1870, and his wife survives him. He was born in West Marlborough, and was a good farmer, an upright citizen, well esteemed in the community, and left a fine estate of real and personal property.
J. Smith Futhey and Gilbert Cope, The History of Chester County, Pennsylvania with Genealogical and Biographical Sketches (Philadelphia, Pennsylvania: Louis H. Everets, 1881).