Thomas M. Fitzgerald -- Biographical Sketch
Beaver County, Pennsylvania (1899)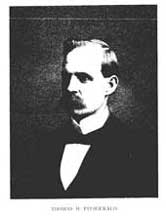 THOMAS M. FITZGERALD, a recent portrait of whom is shown on the opposite page [left], is descended from a line of ancestral gardeners, and is very fond of the culture of flowers, which he has made his like-work. He conducts one of the most beautiful gardens in Beaver county, situated in the borough of Beaver, and he has established a reputation as one of the best artists in his profession. He was born in Hulton township, Allegheny county, Pa., February 27, 1868, and is a son of Thomas and Mary (Healey) Fitzgerald.
The father of Thomas M. was born in Listowel, County Kerry, Ireland and when a boy, learned the trade of a gardener and became an expert in the culture of flowers; for nine years he managed the grounds and hothouses of Lord Colliss, of Tarbert township, County Kerry, Ireland; he then engaged with Dr. Barrington, of Glin, County Limerick, Ireland, for fifteen years. He subsequently went to Hamilton, Canada, where he spent two years, and as he had many friends and acquaintances in Pittsburg, Pa., he located there in 1866, and worked for many prominent men of that city, who owned large and handsome properties; he was employed by Mr. Murrdick, Mrs. Denny, and Mr. Charles McGee; he now has charge of Mr. M.C. Miller's grounds at Turtle Creek. While working in the employ of Lord Colliss, he made the acquaintance of his present wife. Both being poor and not able to buy a home in their native country, Thomas decided to come to America in the effort to seek home and fortune; his plans being crowned with success, three years later he wrote for his intended wife, and, upon her arrival here, they were happily united in marriage. A few years later the health of Mr. Fitzgerald's mother began to fail, and he sent his wife and five children to his old home in Ireland, where they remained four years, --- returning in much better health and spirits. Mr. and Mrs. Fitzgerald are the parents of eight children: Joseph, deceased; John; Thomas M.; James; Annie; Mary; Edward, who served at Manila in Company B, 10th Reg., Pa. Vol. Inf.; and William, deceased.
The subject of this memoir attended school, for years, at Tarbert, Ireland, and in this country, at New Castle, Pennsylvania. While a mere boy, he assisted his father in the cultivation of flowers and improved every opportunity to gain a thorough knowledge of the art; in 1889, he came to Beaver to take charge of the beautiful grounds and hothouse of Hon. J.F. Dravo, but a year later he leased the hothouse, and a part of the grounds, of his employer, and now keeps one of the finest displays of flowers ever seen. The beds and plants are artistically arranged, and the choice, blooming flowers present an exquisite appearance; he is prepared to furnish flowers, on short notice, for funerals, weddings, and other occasions, and his also ships largely to other points. Mr. Fitzgerald is well deserving, and worthy of his large patronage, and he has shown the people of the vicinity that they always have at their command the most select assortment of floral beauties. He is genial and accommodating to all, and his pleasant manners and honest business methods, have won for him the esteem and good will of all who known him. He has not only adopted Beaver as his place of business, but likewise as his home, and he owns two fine lots on Commerce street, upon which he erected a handsome resident in 1893. In July, 1899, he purchased the Campbell estate, consisting of six and one-half acres on Fifth street, on which he will erect a large range of greenhouses to better accommodate his growing business.
Mr. Fitzgerald wedded Nora, a daughter of Jeremiah Minihan, of County Cork, Ireland, and three children have resulted from their union: Mary Catherine, born July 16, 1896; John Leo, born February 23, 1898; and Joseph Thomas, the last two being twins. Religiously, our subject is a member of the Catholic church; politically, his is independent in his views.
Source: Book of Biographies - Biographical Sketches of Leading Citizens of Beaver County, Pennsylvania, Biographical Publishing Company (Buffalo NY, 1899), pages 314-16