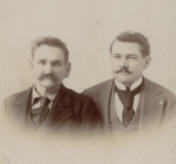 William David Ashley (1834-1912)
with son Dr, Dexter David Ashley
William David Ashley (1834-1912)
Ashley Genealogy by Francis Bacon Trowbridge (1896)
---
William David Ashley (William, Eli, Joseph, James, Joseph, David, Robert), born 15 May 1834 in West Springfield, Mass.; Addie Dunn Carpenter, daughter of Samuel and Sarah (Bradeen) Carpenter, born 22 Apr 1835 in Dedham Mass.
William David Ashley lived with his father on the farm until he was eighteen, receiving such education as the district school afforded. In 1853 he became an apprentice to the machinist's trade in the Ames' machine ship in Springfield, and became a skilled tool maker. In 1867, failing health, he emigrated to Nebraska and engaged in farming near Syracuse, Otoe County. He resided there until March, 1895, when he gave up farming and moved to Grandin, Mo., his present residence.
Mr. Ashley owned one of the most desirable and complete fruit and stock farms in the county, and was recognized as a through and successful farmer. Though cautious in his business relations, he has always been considered honest and truthful, and an accommodating neighbor. Exacting as a father, he felt pride in his farm and family, and provided well for them. He has never been active in politics, but usually has voted the Republican ticket. He never ran for office, but was appointed to the office of supervisor of roads for a number of years.
CHILDREN (EXCEPT 1) BORN IN SYRACUSE, NEB.
DEXTER DAVID, b. 19 Mar. 1864 in West Meriden, Conn.
LUVERNE FRANCIS, b. 22 Apr 1870; is a school teacher in Ashland, Neb. She is unmarried.
ELSIE MAUD, b. 19 Mar 1871 ; was bookkeeper of the Missouri Lumber Co., in Grandin, Mo., and is now bookkeeper in a bank in Poplar Bluff, Mo. She is unmarried.
Francis Bacon Trowbridge, The Ashley Genealogy, History of the Descendants of Robert Ashley of Springfield, Massachusetts, (Press of Tuttle, Morehouse & Taylor; 1896), page 262.