There are no confirmed
photographs of
William (Sr)
or Eliza Champion Ashley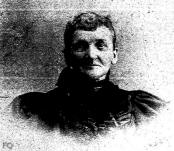 Eliza Jane Ashley Nichols
(1840-1922)
William Ashley (1803-1865)
William Ashley (Eli, Joseph, James, Joseph, David, Robert), born 26 January 1803 in Westfield, Massachusetts; died 28 July 1865 in West Springfield, Massachusetts; married 20 November 1828 in Westfield, Eliza Champion, daughter of Hervey and Hannah (Ashley) Champion, born October 1807 in West Springfield; died 27 July 1864 in West Springfield.
William Ashley inherited the house and farm of his maternal uncle David Ashley, lying on the hill west of the "River Road" in Ashleyville in West Springfield, Massachusetts. He settled on it, and was a prosperous farmer and a highly respected citizen. Samuel and Sarah (Bradeen) Carpenter, born 22 Apr 1835 in Dedham Mass. His only surviving daughter, Mrs. Nichols, now resides in the old homestead.
CHILDREN BORN IN WEST SPRINGFIELD, MASSACHUSETTS
i. HOMER, b. 22 Sep 1829
ii. JULIA CARINTHIA, b. 9 Dec 1831; d. 6 Oct 1876 in West Springfield, unmarried.
iii. WILLIAM DAVID, b 15 May 1834
iv. a child, twin of Hervey, d. same day.
v. HERVEY MARCHELLUS, b 15 Aug 15 Aug 1836; was a farmer and lived all his life on the homestead, where he d. 20 Oct 1882, unmarried
vi. A child, b. 18 Apr. 1838; d. 20 Apr. 1838
vii. ELIZA JANE, b. 3 Apr 1840; m. 30 Mar 1865, Edwin Epaphroditus Nichols and resides on the homestead in West Springfield. The author is indebted to her for much assistance in collecting the records of her branch of the family. The figure standing at the gate in the photograph [above] of the Ashley Homestead is Mrs. Nichols.
viii. LUCY MARIA, b 9 Apr 1843; d. 9 Sep 1848
ix. ELLA SUSANNA, b. 1 Dec 1844; d. 24 Aug 1848
Source: Francis Bacon Trowbridge, The Ashley Genealogy, History of the Descendants of Robert Ashley of Springfield, Massachusetts, (Press of Tuttle, Morehouse & Taylor; 1896), page 182-3.