St Joseph's Cemetery
Conneaut, Ashtabula County, Ohio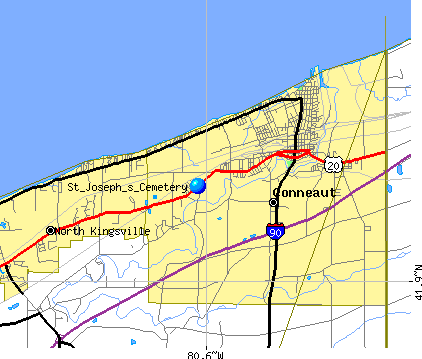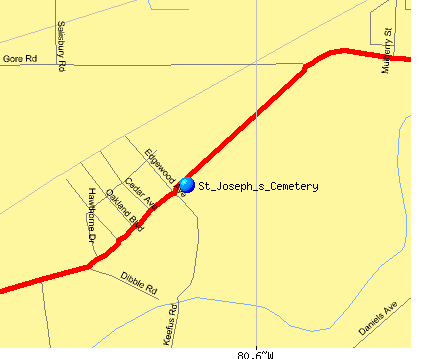 Source: U.S. Census Bureau, Tiger Map Service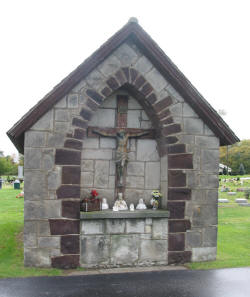 Latitude: 41.93180° N
Longitude: 80.60383° W
Photos of All Gravemarkers (Jun 2004)
Names transcribed (when possible) and placed in searchable captions.
Specific Plot Photos / Layouts:
Moore, Cousins, Cherry & McLeon Plot

requires Acrobat Reader
Surname(s) of Interest: MOORE, COUSINS, CHERRY
Cemetery Visit: Oct 2005 (A.J & W.E. Fred )
This visit and webpage was only intended to document the graves related to our family genealogy that is documented in the FredQuest Genealogy Database.
FindaGrave: Saint Joseph's Cemetery
Selected Transcripts & Photos
Name
Gravemarker
Dates
Photo
Comments
Baker, James Edward
1879 - 1946
husband of Margaret Moore Baker
Baker, John Moore
1914 - 1928
son of James Edward & Margaret Moore Baker
Baker, Margaret Moore
1879 - 1945
maiden name: Moore

wife of James Edward Baker

daughter of Asa & Mary Sharkey Moore

Bynan, John A.
Cherry, Bridget E.
1852 - 1987
Cherry, Catharine
1822 - 1907
Cherry, James Charles
1880 - 1936
Cherry, John T.
1874 - 1902
Cherry, Michael J.
1882 - 1898
Cherry, Rose J.
1854 - 1938
Cherry, Thomas
1853 - 1924
Cherry, Thomas R.
1878 - 1923
Chrisman, James
Cousins Plot
"Mother"
Cousins, Anna P.
1874 - 1950
Cousins, Anna S.
1905 - 1989
Cousins, John P.
1906 - 1931
Cousins, Mary
9 Mar 1919
Cousins, Richard M.
1874 - 1939
Cousins, Robert L.
1903 - 1950
Cousins, William
9 Jan 1915 (?)
Foster, Mary Frances
1887 - 1978
Kelley, Frank
Kelley, James
Kelley, Mary
McLeod, Katharine H.
1876 - 1910
Moore, Bridget
1848 - 1916
maiden name: Calahan

wife of John B. Moore
Moore, J.B.
1840 - 1911
John B. Moore

husband of Bridget Calahan Moore

son of Asa & Mary Sharkey Moore
Moore, Thomas
1908 - 1940
O'Connor, Mary Lucille
1908 - 1940
O'Connor, Mary M.
1877 - 1941
O'Connor, Timothy
1879 - 1929
Reid, Katherine McLeod
1899 - 1989
Riley, Nellie F.
1880 - 1916