Mechanic Street Cemetery
(Old Burying Grounds)
Westfield, Hampden Co., Massachusetts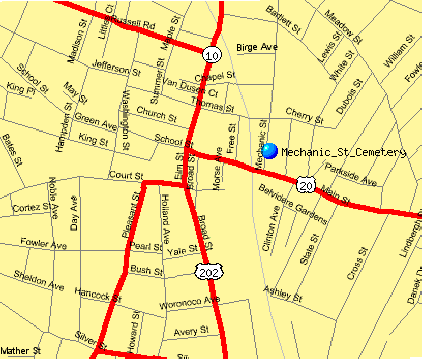 Source: U.S. Census Bureau, Tiger Map Service
Oldest Burial: 1648
Latitude: 42.12104° N
Longitude: 72.74527° W
Cemetery Layout Sketch (GIF)
Cemetery Photos:
(higher resolution panoramic photos similar to above)
180° Panoramic From Entrance (635KB JPEG)
180° Panoramic Looking at Entrance (547KB JPEG)
Panoramic from Northern End (1.1MB JPEG)
Panoramic from Southern End (756 KB JPEG)
Entrance & Panoramic Photos (851 KB PDF)
Specific Plot Photos / Layouts:

David & Hannah Ashley Plot (550 KB PDF)
Eli Ashley Grave Marker (48 KB PDF)
Thomas Dewey Plot (1.1 MB PDF)
Samuel & Mercy Fowler Plot (471 KB PDF)
PDF files requires Acrobat Reader
Surname(s) of Interest: ASHLEY, DEWEY, FOWLER
Cemetery Visit: Sep 2003 (W.E. Fred )
References:
Walter B. Ayers, "Mechanic Street Cemetery: alphabetical list by family" (Westfield, Massachusetts: n.pub., 1995), The Westfield Athenaeum, 6 Elm Street, Westfield, Hampden Co., Massachusetts 01085.
This visit and webpage was only intended to document the graves related to our family genealogy that is documented in the FredQuest Genealogy Database.
FindaGrave: Mechanic Street Cemetery